Hey Guys,
Figured this would probably be the best way to re-introduce myself. Some of you may already know me, most of you probably don't. My name is Juan Vargas, I've been in the Nissan industry for basically as long as I've been into cars. started with Drifting and SR20's back in my high school days and the slippery slope of ruining my life started there. Worked for a Nascar race team in North Carolina straight out of high school; Motorsports swallowed me and it basically became my life. I formed a few partnerships but had shitty business partners and decided it would be best to just move forward on my own with my own beliefs and ethics without having anyone to potentially ruin things or do things with my business that I can't put my name on. ANYWAY, So i took a four almost five year break and had the opportunity to work at Fontana Nissan, to my surprise within one year of my employment there I was promoted to being the Motorsports Manager and basically became in charge of any technical issues, resolutions, R&D and EMS calibrations.
During my time at Fontana Nissan I was able to expand my network, meet more people and learn more about properly operating a business and dealing with customers. However that time has come to an end as I am pursuing other goals and moving forward to the next chapter in my life. I'm one semester away from graduating college with my focus in Computer Programming (embedded electronics) and so I've been spending the last few months studying and working on customer cars in my garage whenever I'm not doing school work.
with that said, I acquired the Old Fontana Nissan BNR32 after it sat at my house for the better part of the last two years after the dealership pulled that car from the previous shop that was working on it. (won't go into details on who or what happened out of professional courtesy) BUT long story short the car was pretty much dead and would need a new engine along with the wiring harness sorted. Since engine is rod knocking, has 60 psi in cylinder six and the harness is butchered. This is where the adventure on my personal BNR32 starts.
Most of you probably know the car, but for those that don't this is what the car started off looking like when I acquired it. just add a 4mm thick layer of dust and a ton of cob webs.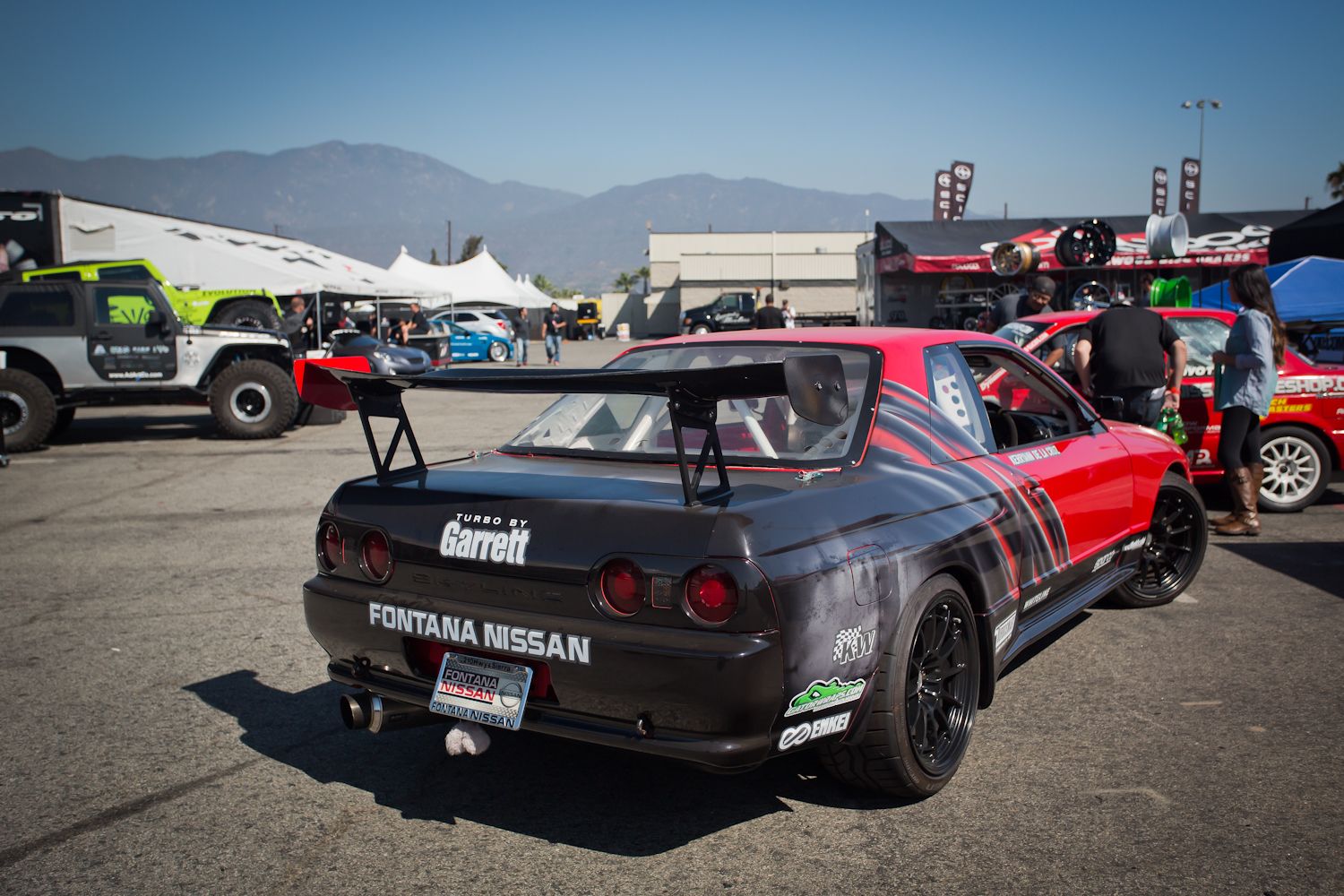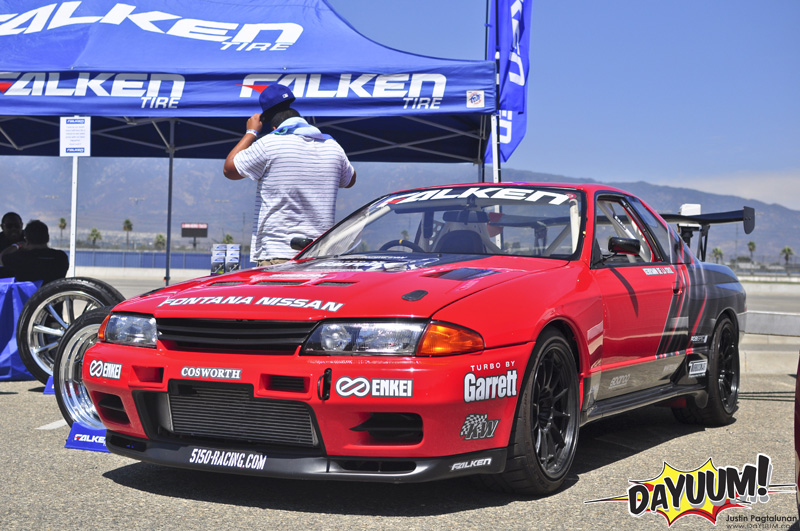 Since the car became officially mine I started to make it my own. I'm currently buried in school work and customer projects so I can't exactly make time to pull the engine and take it apart to see what caused it to fail, BUT since R's day was coming up I had to clean it up and at the very least clean up the wiring to make the car look like something I can put my name on. Which is the main reason why i didn't pop the hood I still have a fair amount of work to do under there before I can be proud to show that part of the car off.
BUT the bit of progress i got on the car made me extremely happy to call it my own. First order of business I ripped off the wrap, I'm not a fan of wrapping a car not my number 1 personal choice.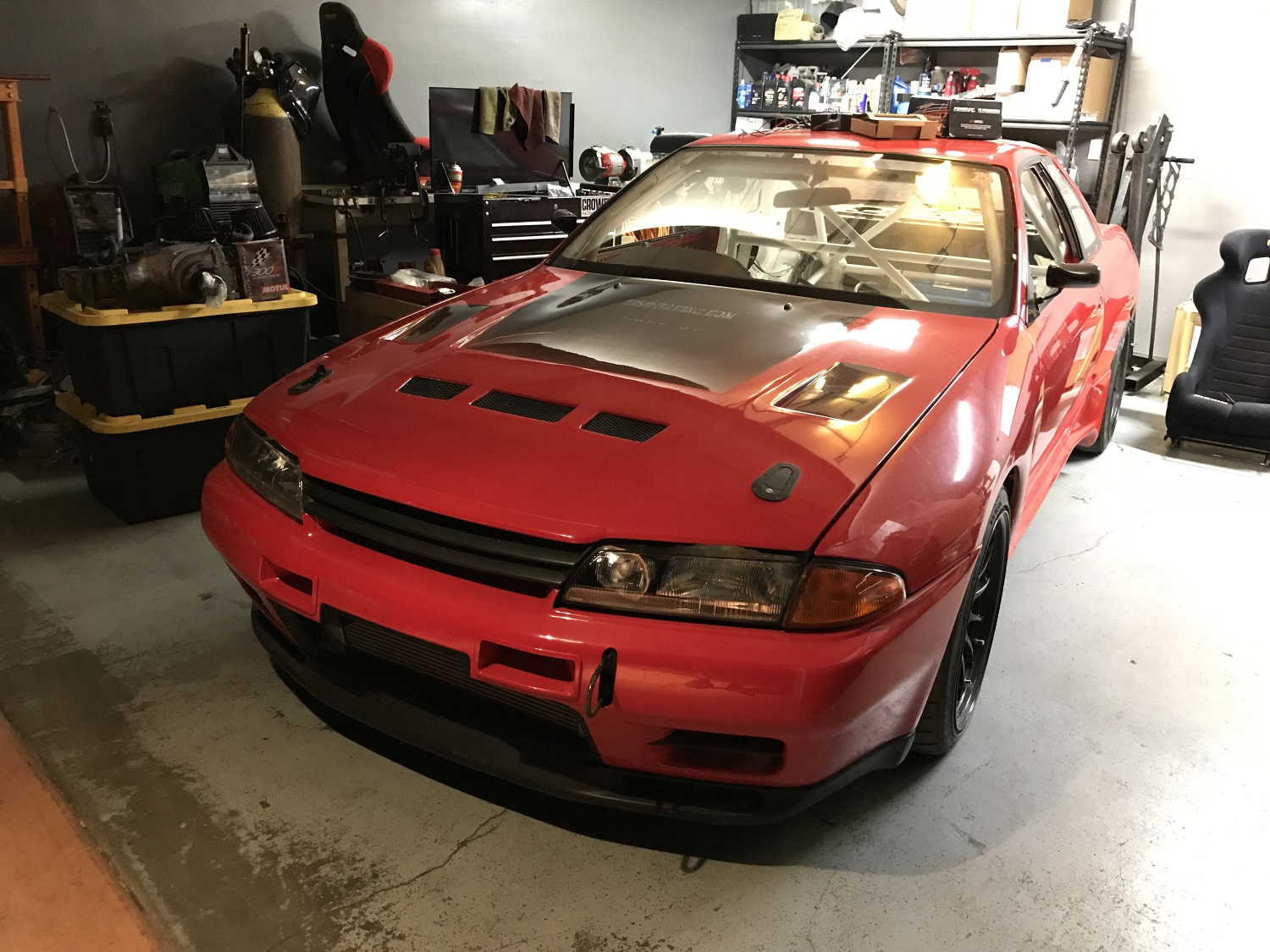 Next step was removing the R33 Brembo's off my Z32 along with the Gramlights since I will no longer be using my Z32 for competition I decided the best course of action was to take my Brembos for the GT-R and use the OE R32 calipers on the Z since that's more than enough for street use.
before doing the exterior work I did have to address one issue, Kerryann is not as tall as I am so her sitting position had my helmet basically against the roll cage, which means I had to address that issue. I made a new seat fixed seat mount to maximize head room and clearance. I'm 6'1" so using sliders, helmet and a cage is damn near impossible. this puts me at the optimum seating position for my liking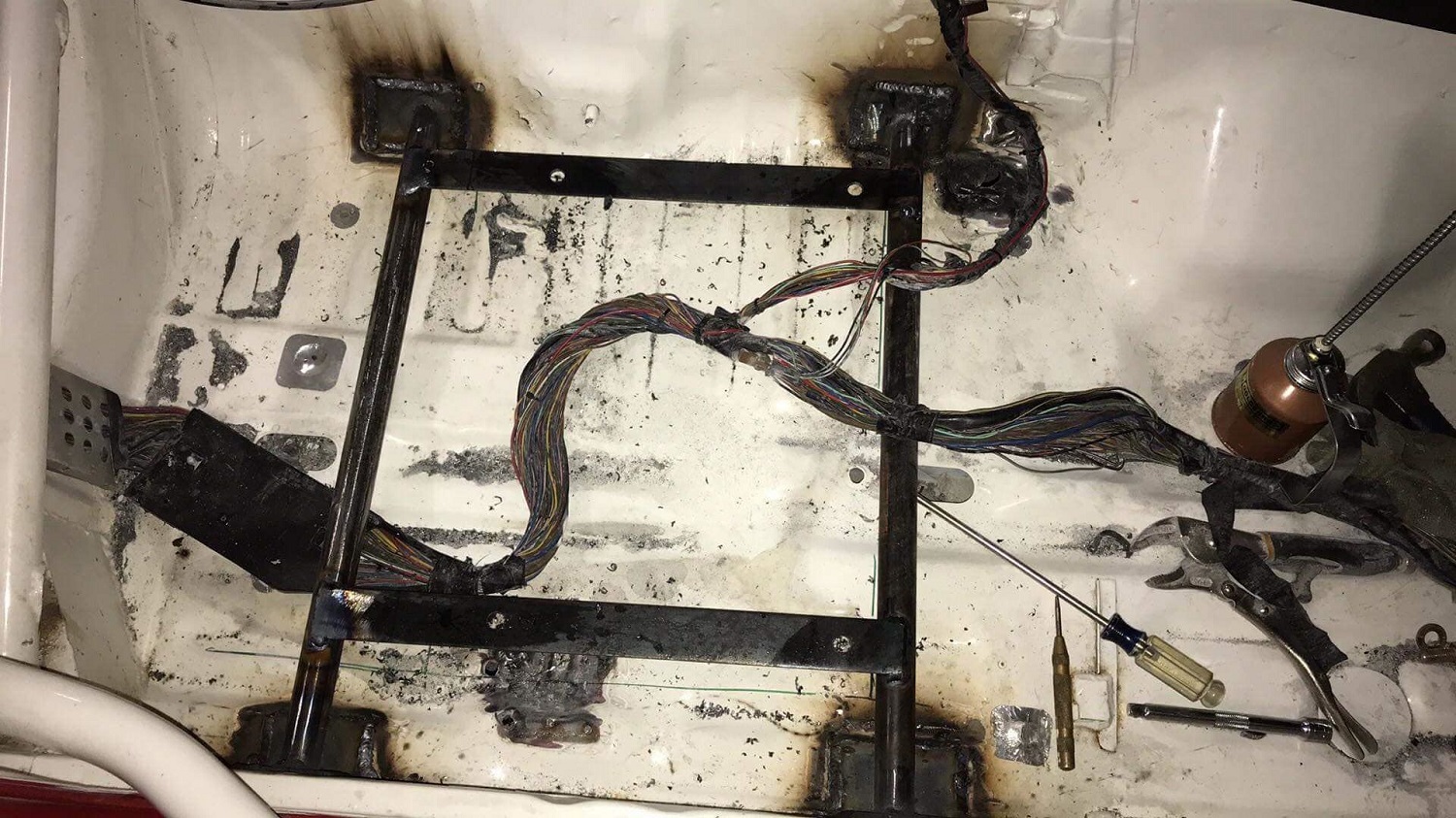 shameful spray paint, but nobody will see that much so it doesn't bother me as much.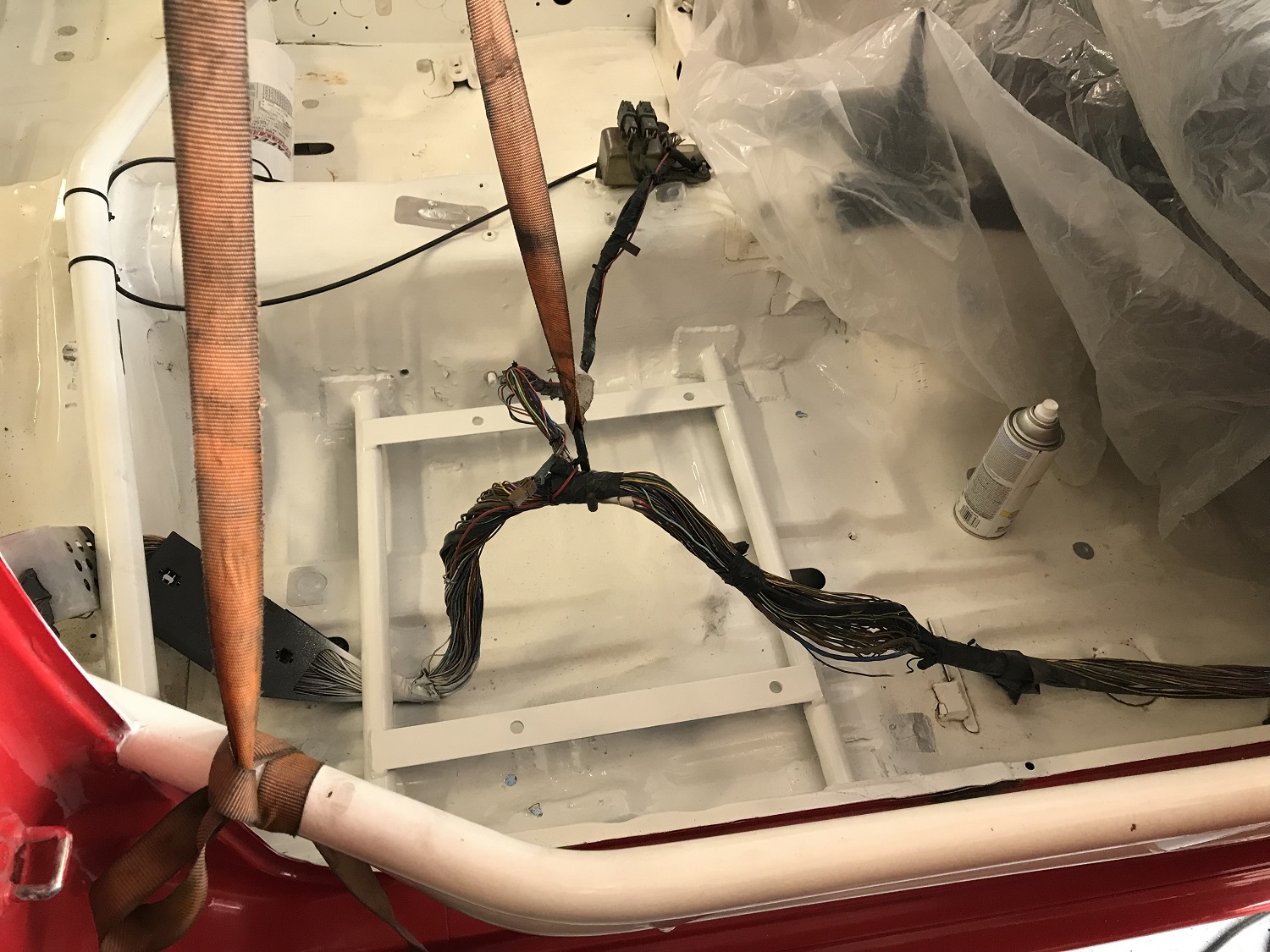 While the epoxy was drying off I started to clean the wiring under the dash and fix the engine harness, I was able to salvage the harness for now. Installed most of my Apexi electronics, made some 3" intakes with R35 MAF's and cleaned up the wiring for the EMS. I also made a new switch panel since the car had an AEM EMS and a bunch of AEM gauges I will no longer be using. I also installed my Blitz SBC-iD Spec R boost controller under the switches and got some better weather proof switches since the car has no windows at the moment. I also trimmed the shift lever bezel since the car doesn't have a center console there was no point to have the overhang and shift boot looking dumb.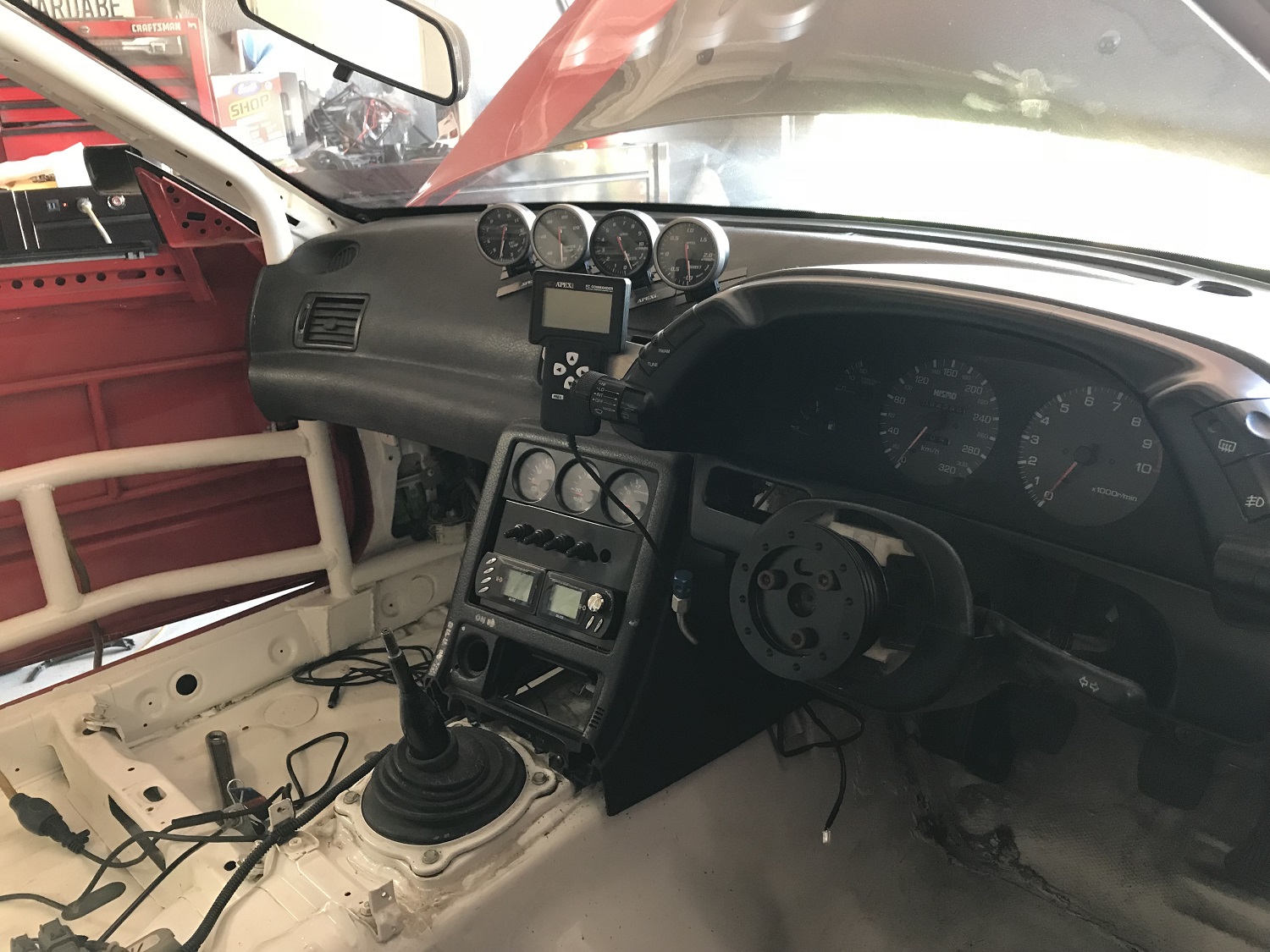 I took a break from laying awkwardly in the car and running wires under the dash and installed the brakes, sort of bled the system enough to be able to stop the car and installed the wheels. (system wasn't fully bled because I plan to delete the ABS on the car when the engine is out)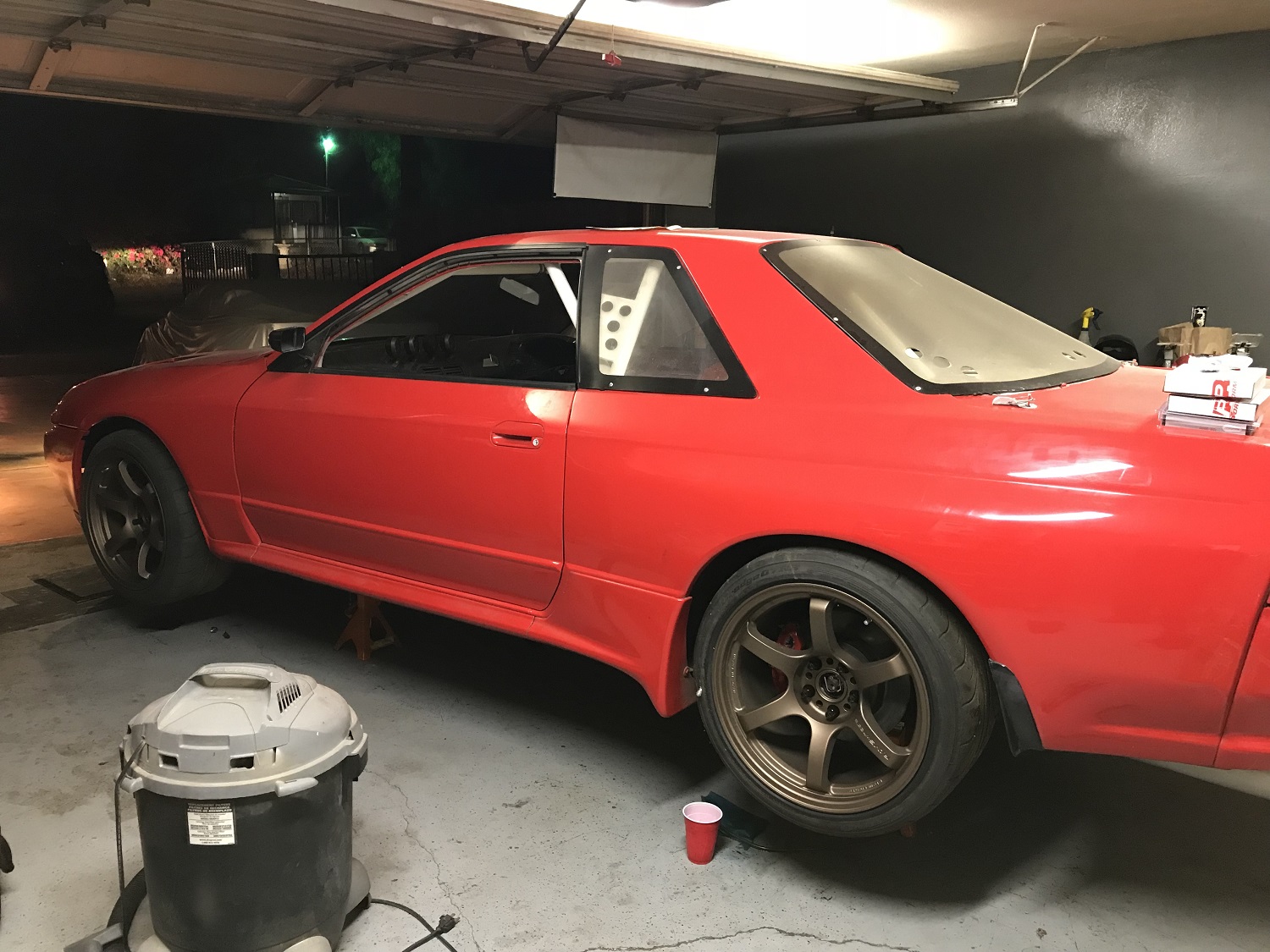 Ended the day mounting the seat in it's rightful spot, perfect seating position for me and making a mount for the Power-FC ecu that will run the car.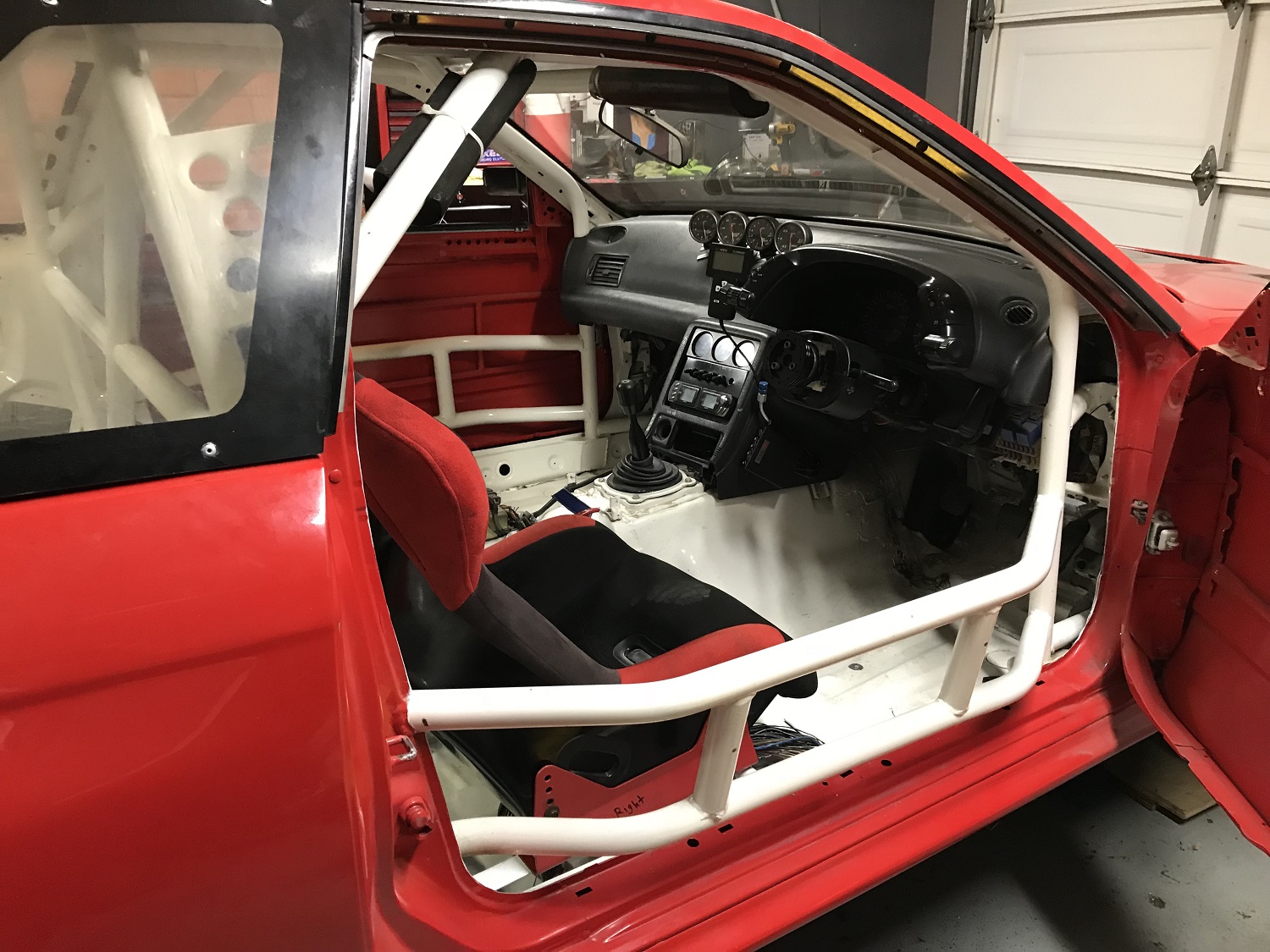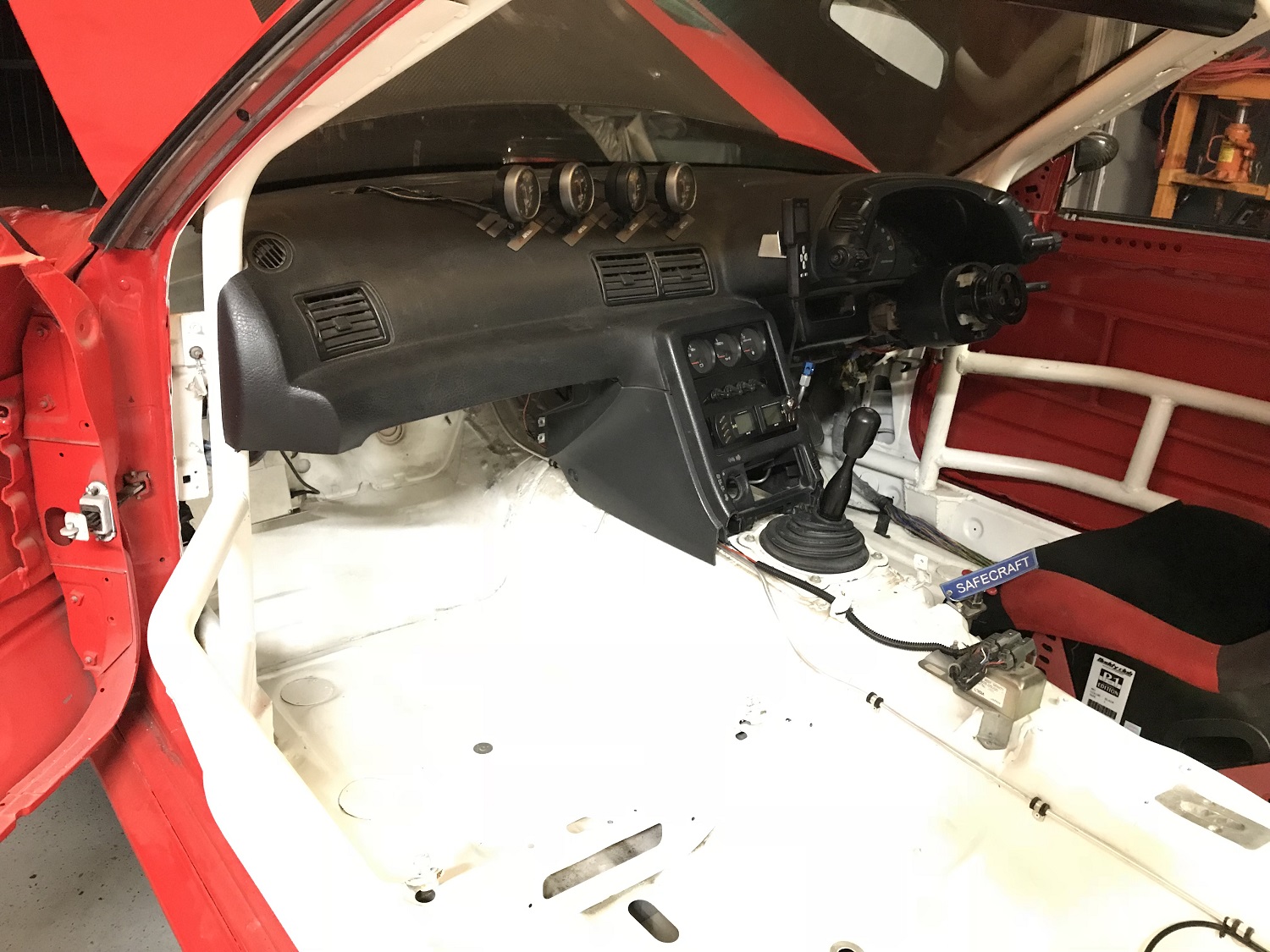 After loading a base map into the car it cranked right over and idled on most cylinders, with a slight hint of audible rod knock. I had a good friend of mine come over and detail the car while i prepared stuff for R's Day 2018 and showed off how a little bit of clean up can completely change a car.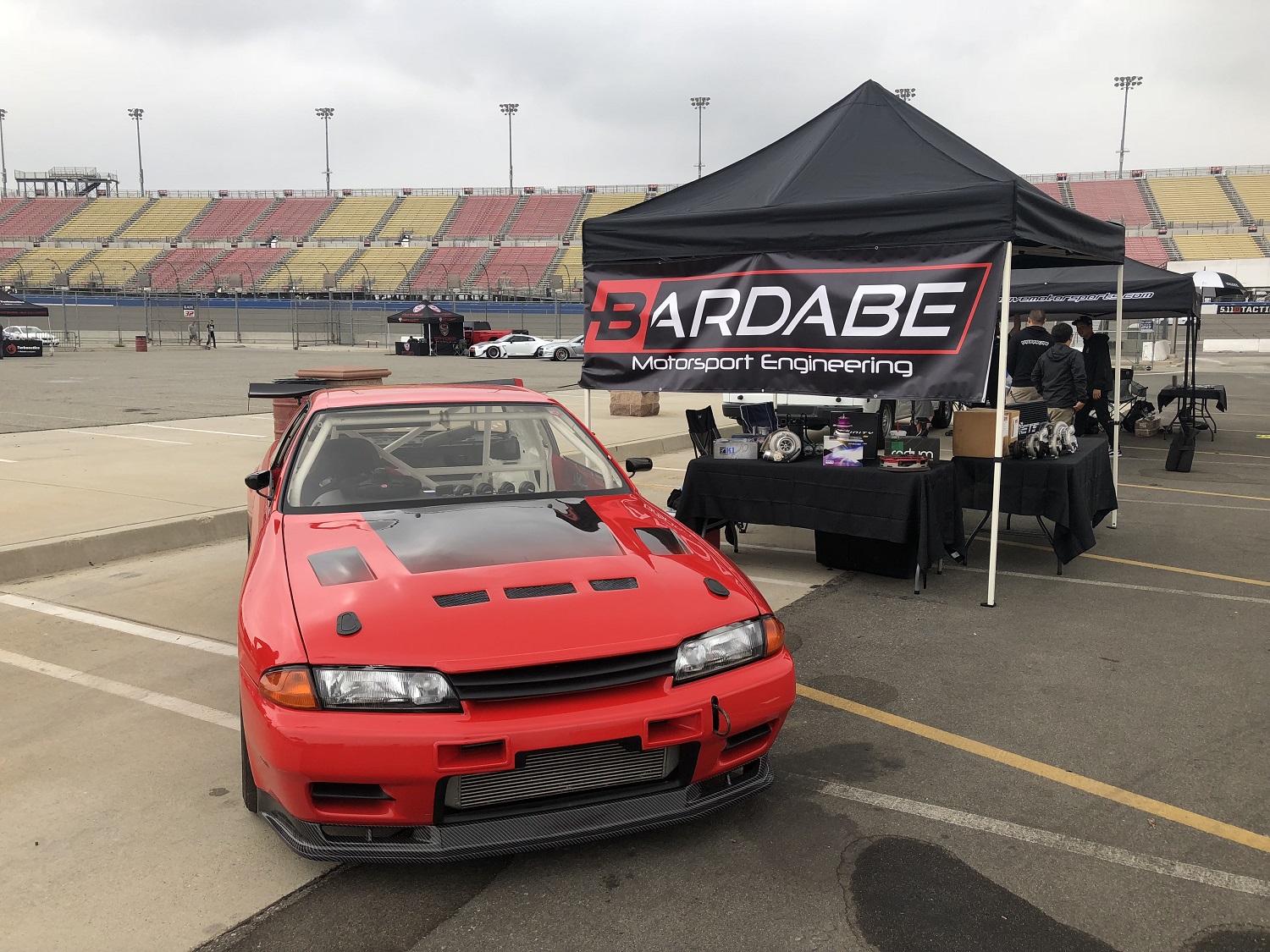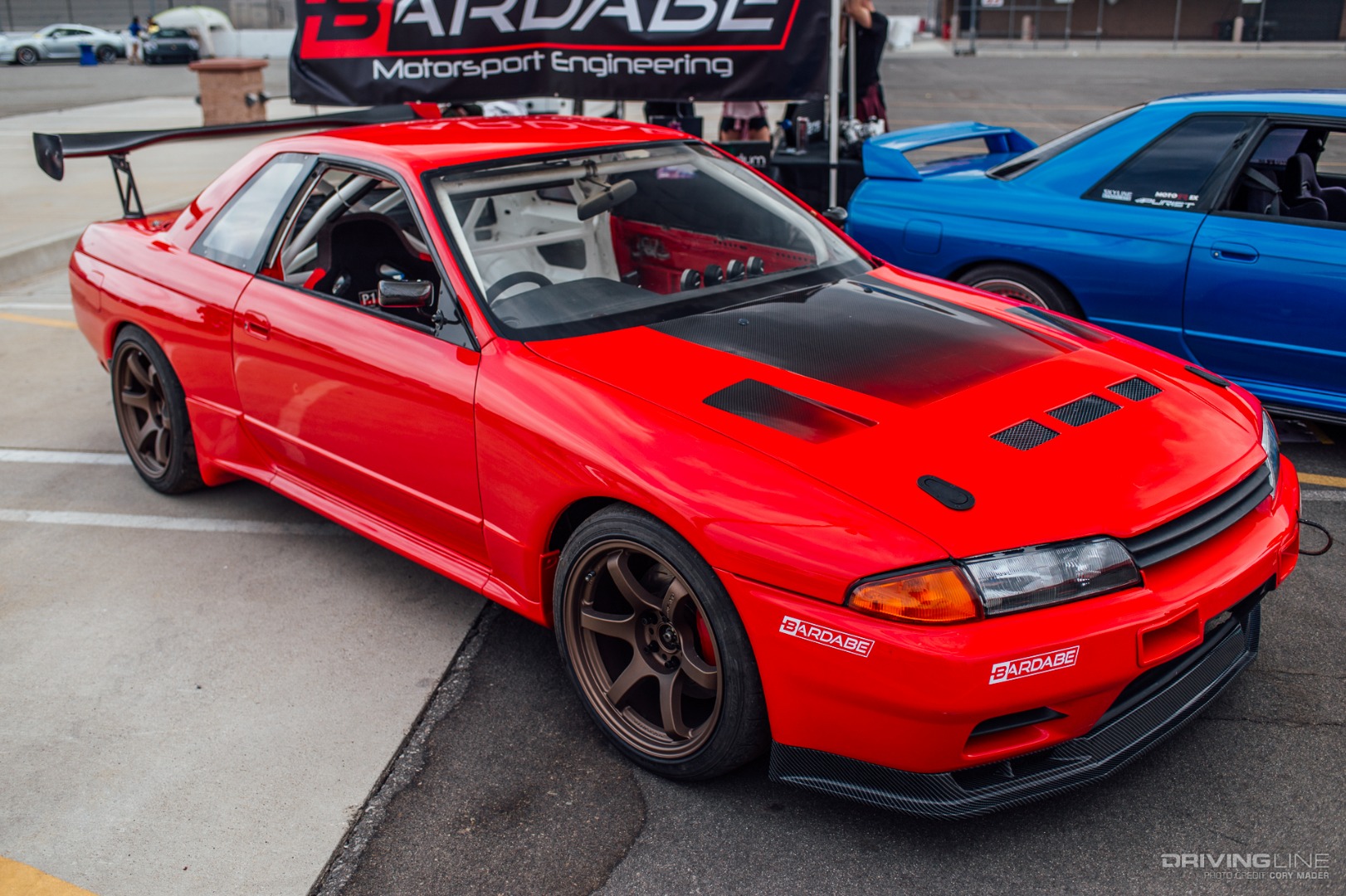 Here is my car at my booth at R's day along side Sam's R32 that I just finished building for him, R's day track event was the shake down for his car so it was a very busy but fun day for me.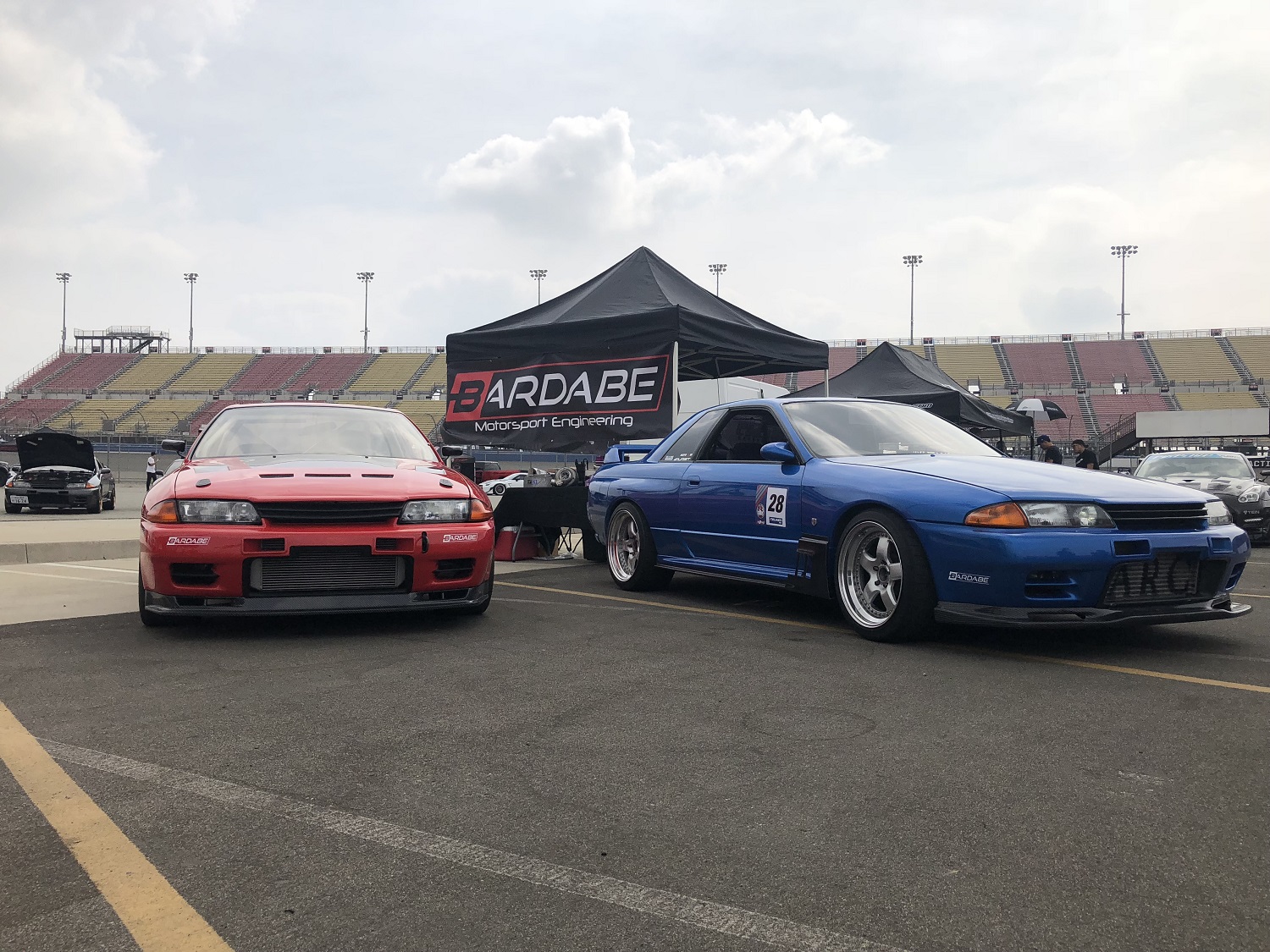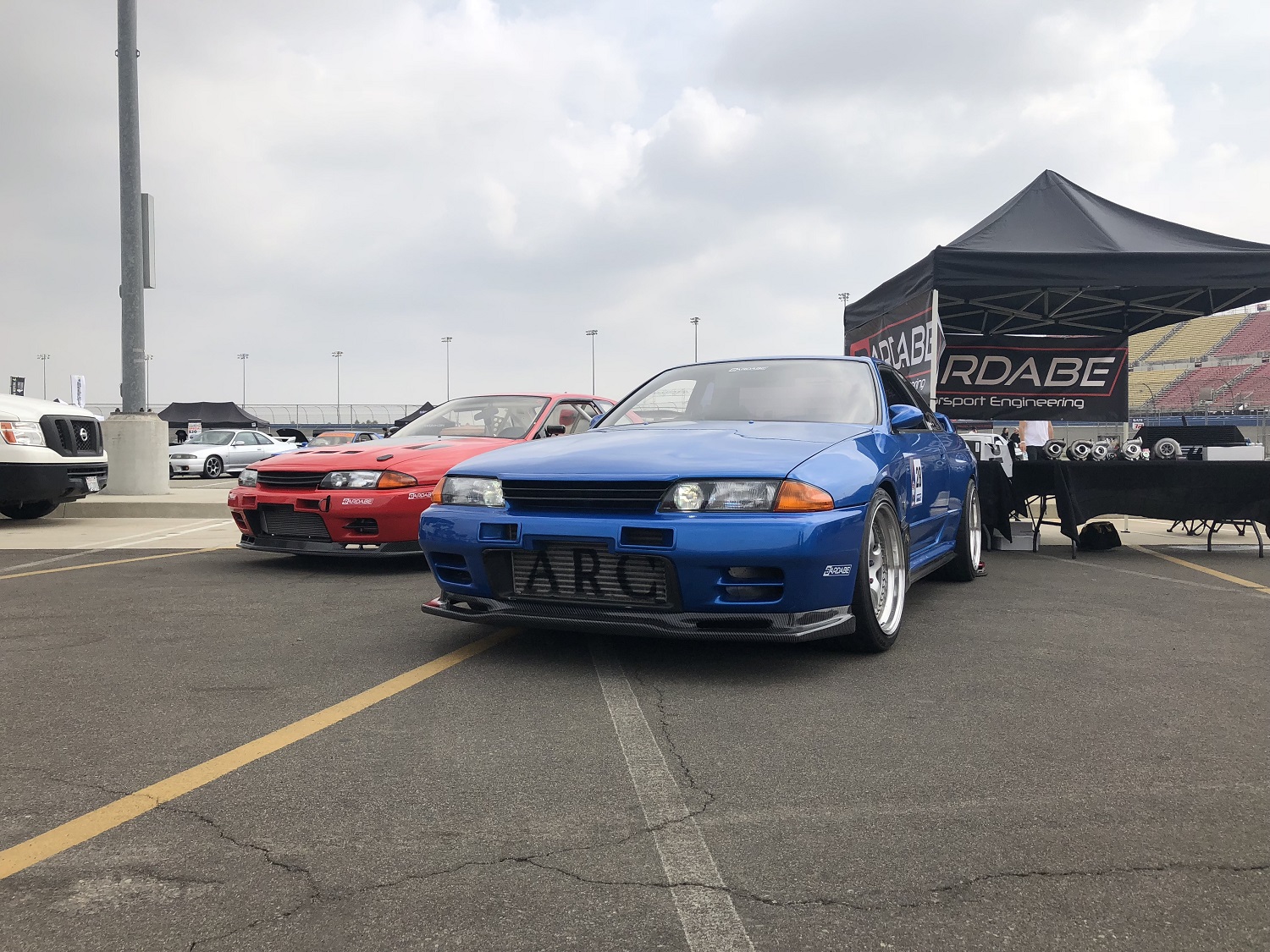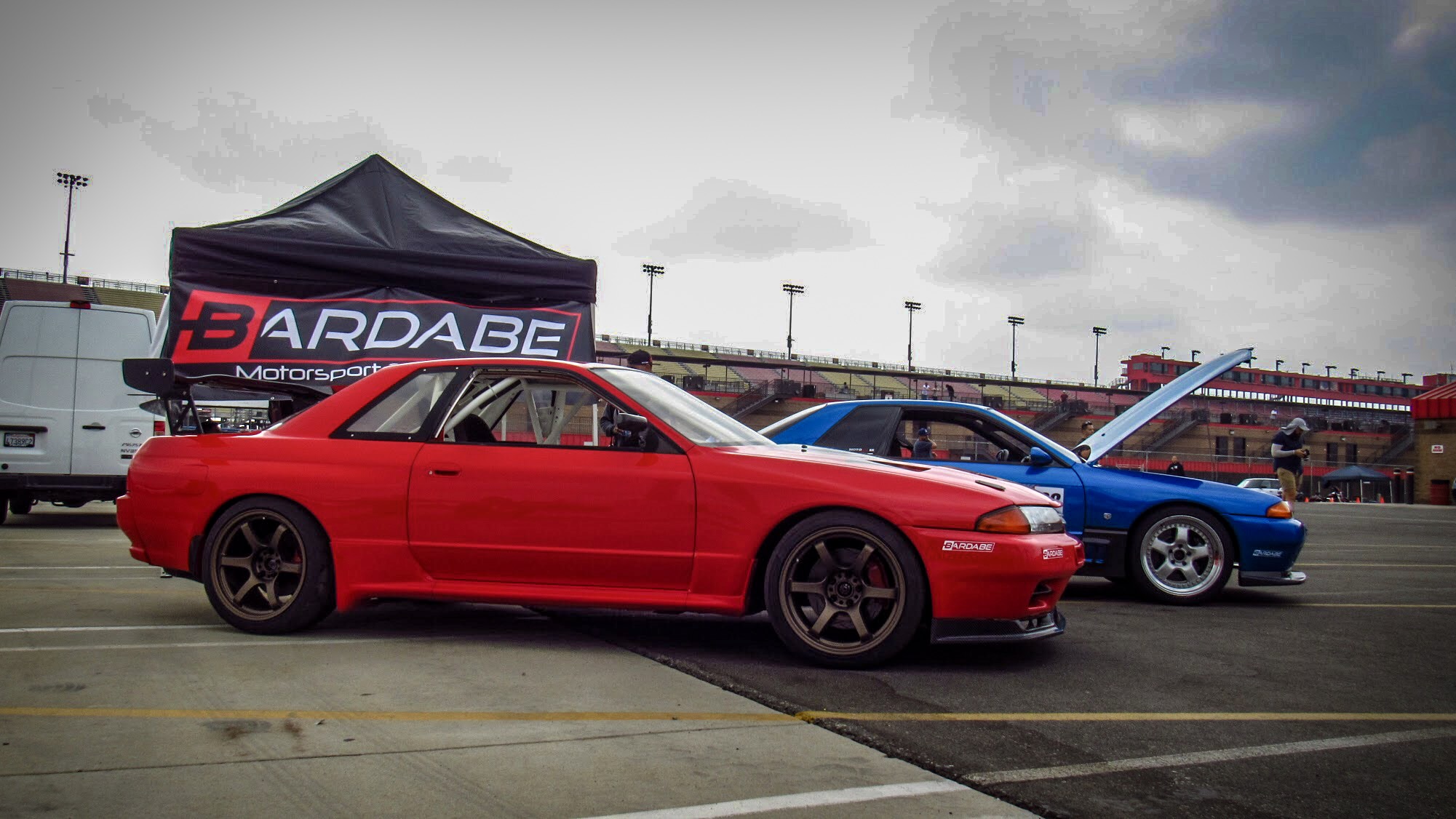 so plans from here on out is squeeze some time to work on the car in between customer cars to pull the engine out, inspect the damage to figure out the root / cause of failure. install a good engine in the car let it be an engine I build or a replacement long block for now. Obviously I'd transfer the 2860-5's and some supporting mods to the new engine but that's all up in the air right now. ABS delete, will happen when I remove the engine
long term goals are, Single turbo conversion, Getrag Six Speed swap, replace all control arms with SPL Pieces, cut that cage out and make my own to higher specifications. Brand new fuel system, rear firewall / bulk head along with fuel cell. I also want to re-wire the entire chassis with new wires, connectors and install either a motec m84 ecu or a motec M130 along with the motec dash and PDM. (that's more than likely going to be one of the last things since the power-fc is more than capable for the level the car is currently at)
P.S. No I have not given up on my SRZ32 the VVL Swap on that should get updates after I'm done moving to Texas