I was toying with the idea of adding some gauges to my car, but wasn't interested in the ricyness of an A pillar pod or mounting on the dash so I came up with this idea about 4 years ago on my 89 GTST. I now drive a 91 GTS4 and wanted the same thing.
I will show how I did it in as few steps as possible in case someone here would like the same.
Step 1.
Assuming you all know how to remove the trim from the steering column, do that first.
Step 2.
Once you have removed the upper and lower covers you should be looking at a bare steering column.
Step 3.
Again, assuming you all know how to remove the cluster bezel do that next. Take care when removing not to pull too far, just enough to stick your hand in there and disconnect the connectors to the switches mounted in the bezel.
Step 4.
Remove the bezel completely and using a hole saw and drill make the opening where you like. I chose to put it right beside the lower driver side air vent.
Step 5.
Once you are happy with your hole, test fit the gauge. I made my hole a little small to provide a tight fit for the gauge so I didn't need to use the supplied mount that came with the gauge.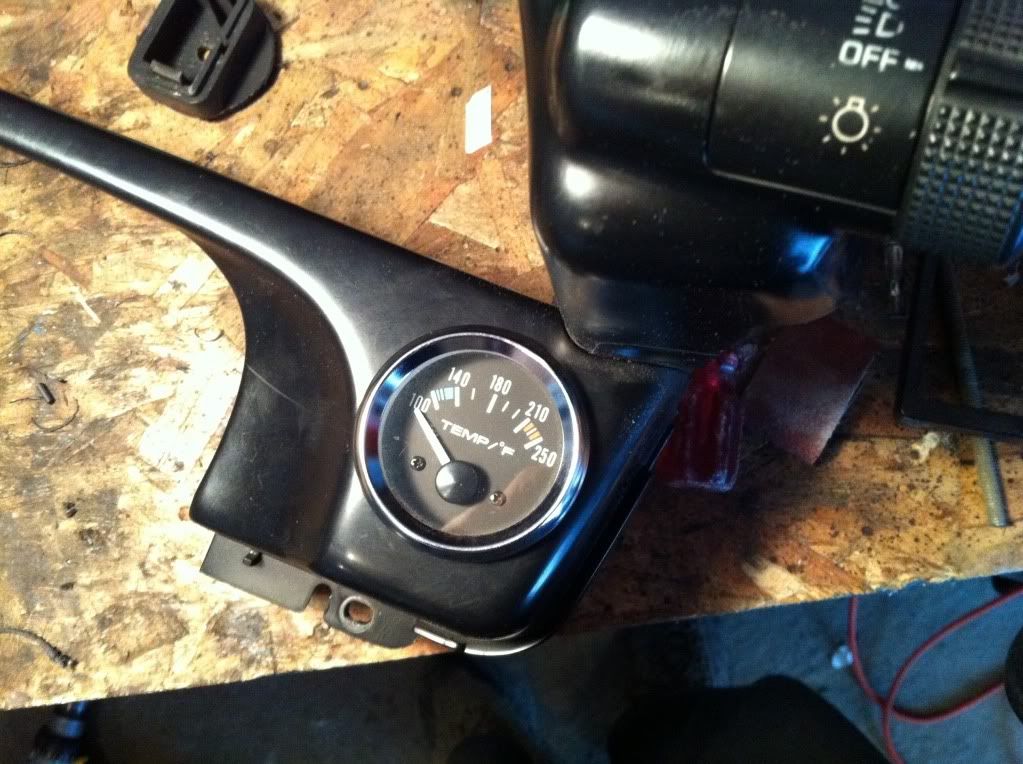 Step 6.
With the gauge now firmly installed, go back to the car and connect the gauge that is now part of the bezel to whatever type of setup it is; electric or mechanical. Reconnect all the factory connectors and reinstall the bezel and steering column covers.
Step 7.
Now with everything back in place you should end up with this:
Step 8.
Now sit back and enjoy.
The same thing can also be done on the other side of the bezel as well, there is plenty of room behind. Next I plan on adding an A/F, and oil pressure gauge to the other side. I like the idea of having extra gauges but strongly dislike anything bolted to my dash, so this is as low profile as I could get. I also wasn't fond of mounting in the console similar to the GTR, I like having the small storage bin below my in dash DVD.