This is a tutorial on making the process of selling parts an easy, quick and painless adventure, weither they be OEM, aftermarket, new or used
This is based on my experience from constantly roaming classifieds sections from multiplie forums, buying several parts on them and selling more than 100 oem and a/m parts myself through those boards
I've been parting out my GTR for the last 7 months and made just over 8000$ all over north america, so i am not new at this, and everything i mention is based on facts and experiences
Point 1.
READ THE RULES,
as with any laws, everyone should be aware of them and abide by them
and make sure you're on the right forum, selling honda parts within a skyline community =
Point 2.
Deep down, everyone is lazy, the more effort you put into creating and maintaining your ad, the less effort will have to be made on the buyers' side and thus the more they will be inclined to buy
Point 3.
Pictures !!
include recent pictures of your items, and everything included,
remember, everyone is lazy (point2), wouldn't you rather read a book with pictures?!
like the saying; ''a picture is worth a thousand words'' alot of potential buyers' questions will automatically be answered by a good picture; again, less effort on their part asking them
pictures should be of the exact part; no ''just like this but black'' or ''just like this but better''
and also no ''pics to be added later''; why? because people won't always come back to your ad, you should really try to attrack their interest the first time!
and also no ''pm (or email) for pics''; if you can make a forum post, you can certainly upload pics on a website, really easy
http://photobucket.com/
http://imageshack.us/
even
http://www.facebook.com/
, works
basically you can display any image on the internet in you post using it's address (link) and the proper [IMG] code
Point 4.
Information!!
include all the information possible about each part, so buyers won't have to ask questions about them too much (refer to point2)
information that should be included like;
application (R32? R33? GTR? GTS-T? 4dr? ..etc..)
origin of part (OEM or aftermarket?)
age of the part; NEW? (BNIB=brand new in box, or NOOP=new out of package) USED ? (installed for 2 days or has been used for 90k km)
brand (HKS, Greddy, Nismo ..etc..)
type of product (valves, cat-back, boost controller, coilovers ..etc..) part number if possible
name of the product if possible (HypermaxII , ECV-4, Procams, Type-B, ..etc..)
condition of the part (flaking paint, metal scarring, worn upholstry, faded plastic, broken clip, or perfect condition ..etc..)
everything that is included (package) for the asking price
reason for selling
possibility of shipment or pick-up
asking price (fixed or negociable -> OBO=or best offer)
Do you research!
the more info you dig yourself, the less info the buyers will have to search for (refer to point2)
heres a couple exemples;
should read
1992 R32 GTR OEM front bumper with Nismo inserts, freshly painted OEM black, never used, includes lip of same color, selling because i'm going with a veilside kit, 200$ firm (local pickup only)
--------------------------------
should read
Aftermarket Autometer ''Carbon'' 52mm mechanical vaccum/boost gauge with silver bezel, [-30, +20]psi range, P/N 4701, NOOP, like new, doesn't include sender, selling because it doesn't fit my 60mm holder, can be shipped anywhere within canada at buyer's expense, 60$ obo
Point 5.
Pricing!!
make it absolutely clear what price you are asking to each part/package
we are in Canada, so pricing should be in CAD if possible, no one knows off their head how much 65,000 yen or $80 usd is worth in CAD
sure conversion rates change, its not the buyer's problem though
and sure buyers can convert currencies themselves but ... (refer to point2)
if all else fails
http://www.xe.com/
or
http://www.bankofcanada.ca/en/rates/exchform.html
be logical about your pricing
most buyers are looking for deals, MSRP prices can be found directly from distributors and vendors
also, even if you just bought your part for 400$ and want 380$ for it ''because its still new'', well think about it, would you go through the assle of buyer from an individual when for just that bit more you can get the same part Brand New In Box from a reputable vendor with an invoice, a warranty, maybe a return policy, clear shipping info and respectable timeline?
and if you really want 300$ for an item, don't go and put 400$ obo, which will discourage most buyers
also you should be aware of the item's market value, look through existing ads, check for availability and/or rarity in the market
sure a brand new part might cost 700$, but no one will pay even 500$ for a used one if there are several others for sale at lower prices
about custom setups/parts, again be logical about it, yes you paid 1000$ to have your custom manifold made to
your
specs, but there is no certainty it will fit other's setups, most buyers are aware of that, and most won't want to pay for the labour it cost to have it made, just for the actual part itself, so asking 800$ is less likely to sell (quickly)
also, try to include everything in your pricing like paypal fees,
sure buyers can calculate it too, but.. (refer to point2)
Point 6.
Contact!!
you should be clear about the ways you can be reached
1. you first name
2. an e-mail address if you know you don't visit the boards often enough to answer PMs
3. a phone number, quickest way for a buyer to reach you and get his questions answered, believe it or not, i have gotten call from local buyers as much as from across Canada and even from the states, california, florida, NY
all questions can be answered in seconds
4. your location, or your parts' location; are they in your closet at home in Toronto? or in your parents garage in Ottawa?
another way of saying it... where can the parts be picked-up? or are you able to takes pics or get a serial number of you part quickly?
5. methods of payment (cash in hand, EMTs, paypal, money order, check)
if using EMTs or paypal, include your account's address
and remember, not all banks offer an EMT service
Point 7.
Maintenance!!
check-up on your ad regularly, (1) to answer question posted in it (2) to update it
anyone who looks at your ad will most often only read the first post because (refer to point2), so every valuable info should be updated in the first post
remember, you can edit a post indefinitely
if an item sells, mark it as ''sold'' in your first post (and take off its price!)
if you change an item's pricing, change its original pricing in the first post
if you add items, again, add them in the first post
patience is key
theres no point in bumping a thread twice a day, part rarely sell within hours, unless its a crazy deal, at least wait for your thread to fall off the first page before bumping it, and when you bump, delete your old bump, seeing 5 consecutive bumps just looks desperate
if you really want to sell quickly lower your prices
and if you've been trying to sell an item at 300$ for the last 6 months without success, maybe its time to lower its price :wink: (refer to point5)
Point 8.
Service!!
try to answer your PMs as quickly as possible, ''buyers come to those who offer great service''
and be professionnal about it, clear, direct and truthful
make your PMs as informative as possible, most buyers will be discouraged after 10 days of PMing back and forth about an item
shipping quotes
willing to ship items greatly enlarges your potential buyers pool
i've sold 40% of my parts locally, 30% around toronto, 15% around vancouver
(see end of post for exemple)
getting a quote is pretty easy, you only need 3 things
1. a balance/weight scale, (i use a common person scale)
2. a tape measure
3. and
http://www.canadapost.ca/cpotools/ap...execution=e2s1
try not to over estimate too much the shipping value
and if possible, estimate shipping value for combined parts
and try to ship quickly after you receive payment
and make sure to package everything well
----------------------------------
i think my success as come from offering great service, and i don't do this for a living, i'm just a university student
i keep records of all my sales, 5 people have bought from me 3 times each, and another half-dozen twice each
and i think some people can vouch for me that i am an extremely good packer
case and point--> exhaust system shipped to quebec city
first thing was to clean it to a shine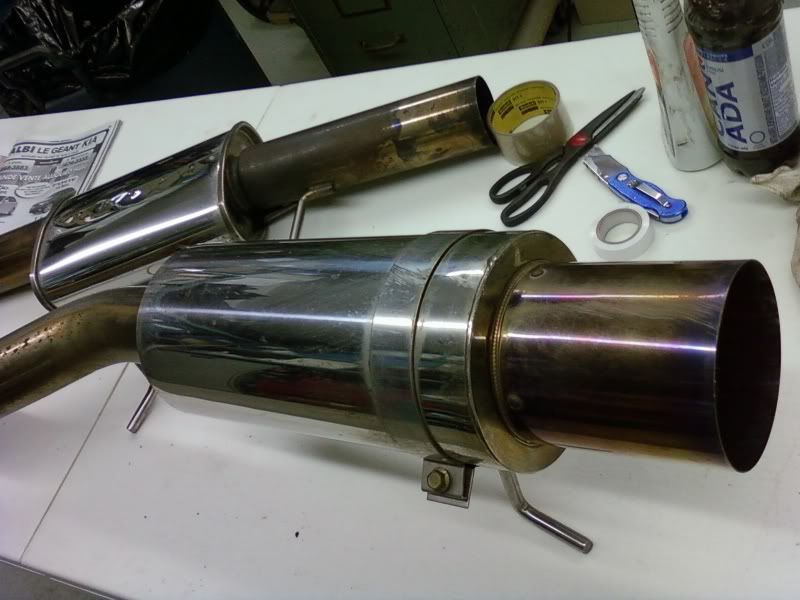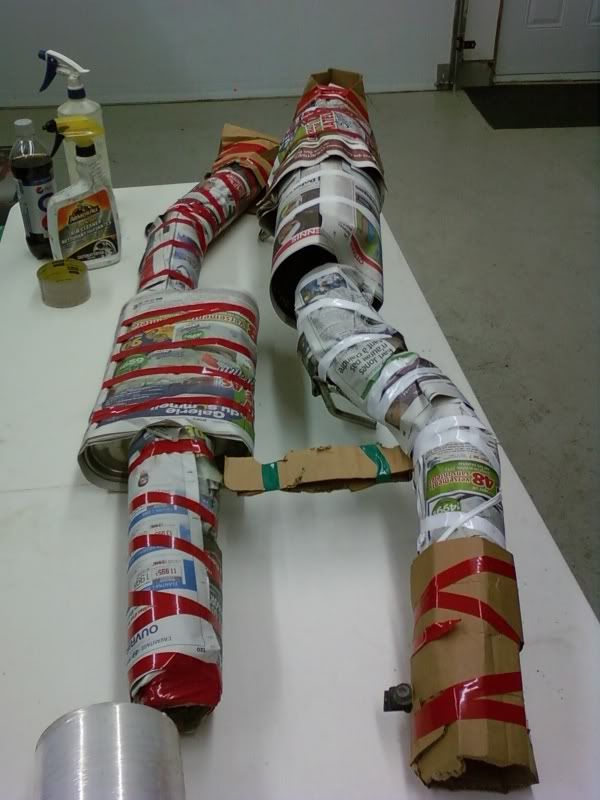 and this is an exemple of where i sold most of my parts
thanks for reading
françois