RightDrive is pleased to be the Canadian distributor for all Wiring Specialties products.
If you are not familiar with Wiring Specialties, they are the premier manufacturer of aftermarket wiring harnesses for Nissans.
Their harnesses are 100% pure plug and play for your application...no soldering, no cutting, no issues, with a turn key guarantee. Their harnesses range from OEM coil harness replacements, to the wild LS1 into 240SX full tucked full engine harness. All with full OEM spec connectors and looms.
Our RB customers enjoy the beautiful PRO coil harnesses which often cure their ignition problems on RB series engines.
Our 240SX customers love the SR20 into 240SX full engine and transmission swap harnesses, as they are plug and play, and eliminate all wiring and electrical issues associated with the engine swap, and with the original, old wiring.
We also stock replacement connectors for RB & SR series engines as well...igniter, fuel injector, MAF, coil, TPS etc.
The best part about Wiring Specialties products is not even the superior quality and direct fitment....it's the price!
Compare an RB series coil harness from Nissan at $168 to the Wiring Specialties harness at $75.
Compare an original 240SX harness modified by hand for an SR20 swap at hours and hours of labour (potentially over $1000, and still old wiring!) to a Wiring Specialties swap harness at just $319 (brand new!).
For all your Wiring Specialties products give us a call at 1-877-398-8220, or email us at parts@rightdrive.ca.
We will be happy to help out and provide you with the parts you need!
http://www.rightdriveparts.com/66-wiring-specialties
RB26DETT Coil Harness Pro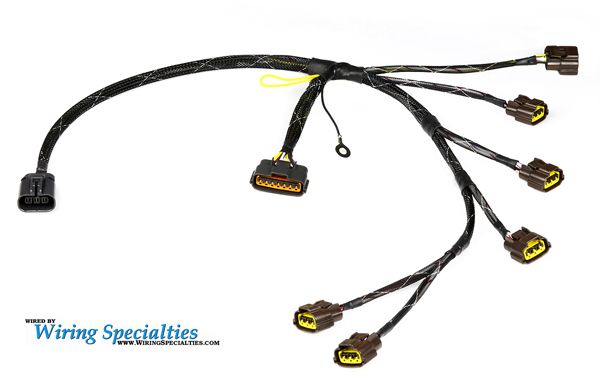 RB26DETT to S13 240SX full harness
LS1 to S13 240SX full "tucked" harness
RB20 to 240SX full harness
RB25 to 240SX full harness
VG30 full replacement harness