INDEX
First Drive
Interior Refresh Pt. 1
Murphy Strikes Again!
Winter Update- ARC, 100K, Tints
Pur Auto is Awesome!: Timing Belt, Water Pump, Ignition Harness, HSD Coilovers, etc.
Big Update! Coilovers Installed, JUN Front Lip, Top Secret Rear Diffuser, Brakes, Summer Wheels Back On.
Speaker Install
Moving Day!
Yellowjacket Coilpacks Installed
New MAFs and Intakes
Slow Roll Detail
Interior Refresh II
Blacked Out Headlights
Winter Haul
Alternator In, Some Engine Bling, Working Car Makes Me Sing
It's All in the Details
HKS Kansai Tow Hook
Brake Lines, Custom Downpipe, Black Work XD9s
Interior Refresh III
New Wheels: Work S1R + Kics Lugs
Move Aside Skyline, the Mazda 3 is Here
Alternator Change...Again. Show Season
Minor Update
R34 Badges - Fresh!
Valve Covers Repainted
VLED Bulbs Installed in Gauge Cluster
Sock Monkey?
Show Season Prep
Synapse BOVs, Front End Repaint, Craft Square Mirrors
2015 Parts Haul, Craft Square Mirror Install, DNBK Artwork
Whiteline Sways, HKS IC Pipes, Interior Refresh IV
Nismo Trunk Bar, 3M Clear Bra, 780 Tuners Opener
Mishimoto Rad Install, New Oil Pressure Sender, Illmotion 2015
YJA Addiction
New Test Pipe and Fujitsubo Equal Length Downpipe
ZLEDS Custom LED Taillight Install, Prepping for a Big Build
Build Time!
Interior Refresh IV
I'm sitting here trying to think of a proper way to introduce my car, and my story. I think it goes a little something like this: You know how they say that GTR ownership is a headache sometimes? Well my headache begun well before I even took ownership of my car haha. If you like reading, then read on players!
This is the first car that I can truly call "mine". Long before I was even able to drive, I dreamed about owning a 'tuner car'. I read all the import car magazines, watched all the videos, but never had money to buy a car. My favourite car growing up through my teen years was the S15 Silvia. So naturally I followed the 240sx scene for a while. I first started driving my parents' cars ('98 and '09 Corollas) for a while, and finally in 4th year university I was able to save enough cash for a project 240sx...kinda. It was an endeavour I took on with a friend, so we split the cost of the car as well as parts. The car was a total POS, but it ran, and had potential. Unfortunately we weren't making enough funds fast enough to see any real progress of the car, and since I was going away for boot camp, we sold it.
When I got posted to Cold Lake, my friend and I split on a '95 Ford Explorer 2 Door. When I got posted out, the car just sat in a lot, until we returned for 2 weeks, 5 months later. See below picture for fate of vehicle.
Now when the Skylines were first being imported into Canada and driven on the street, I won't lie. I said to myself, "The only reason I would give that car a second glance is because I know what it is. It looks out-dated, it's old, it's only O.K.". However, after seeing the car a few more times, I found myself staring at parked Skylines for 10 minutes, taking in each vent, curve, and line the car possessed. Hell whudayknow, I'm in love! I dreamt about owning it, even making a 'mod list' of how I would want my fictional GTR. Yeah, I'm a loser, but don't tell me some of you guys haven't done that too! Fast forward 5 years, I've graduated from school and I have a career that pays me enough. I hear about RightDrive and how they offer a turn-key car. Warranty, safetied, e-tested, certified, cool!
I opened up my "portal" with Mike at RightDrive back in December '09 while I was back on Christmas leave. Being in the military, I move around a lot, so timing was key to the acquisition of this car. It wasn't until the beginning of May that I was sent a car profile for a black R32 GTR that really caught my eye and fitted my budget. Based on a few exterior pics and a brief description, I pulled the trigger and my bid was sealed. The car's ETA was July 3rd, and since I was in Ontario for the summer, it was perfect timing. I was working in Borden and needed a car to get around base and drive back home to Toronto on weekends. Unfortunately the ETA got pushed a couple of weeks, then a couple of more weeks, and a couple of weeks ended up turning into months due to shipping delays.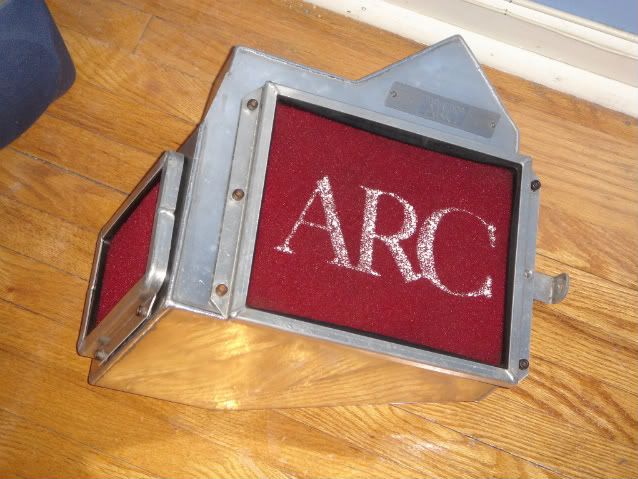 I already started buying parts for a car I don't even have yet! Not pictured: leather shift/e-brake boot with red stiching; Top Secret style rear diffuser from C-Unit
Shitty deal, but Mike kept me satisfied by providing me with a loaner car. I switched between a few cars, the last one being the Cima. The car is cursed. Leaving the dealership with the car, I got a speeding ticket in about 15 minutes on Hwy 7 (which I thought was unfair since I was going the same speed as the car next to me). On top of that, I activated my bank loan for the car back in July, so I was paying interest on a car that wasn't even in my possession yet. So Mike agreed to take the cost of the interest from my loan off the price of the car. Not bad. It's mid-September and the GTR still hasn't reached Canadian shores.
OEM CD Changer!!!
I was posted out of CFB Borden, Ont., and got posted to CFB Bagotville (2 hours north of Quebec City). A major inconvenience caused by a delay in shipping. October arrives, and so does my GTR. I planned a trip back to Toronto (12 hours of driving) on Thanksgiving weekend so I could pick up the GTR and see my family for the holiday. Day before I leave, I'm told that the car isn't ready yet. Another headache because I made an appointment to get a Compustar Pro installed on the same day I was supposed to pick up the car. I went ahead with the trip anyway since I already made too many plans. I paid a visit to RightDrive and I finally got to see my car in the flesh. After months of waiting, I could actually touch it and sit in it. Alas, it was not mine to take home yet. So I talked to Mike and asked him to communicate with the alarm installer that day, and perhaps they could arrange an install date prior to me picking up the car.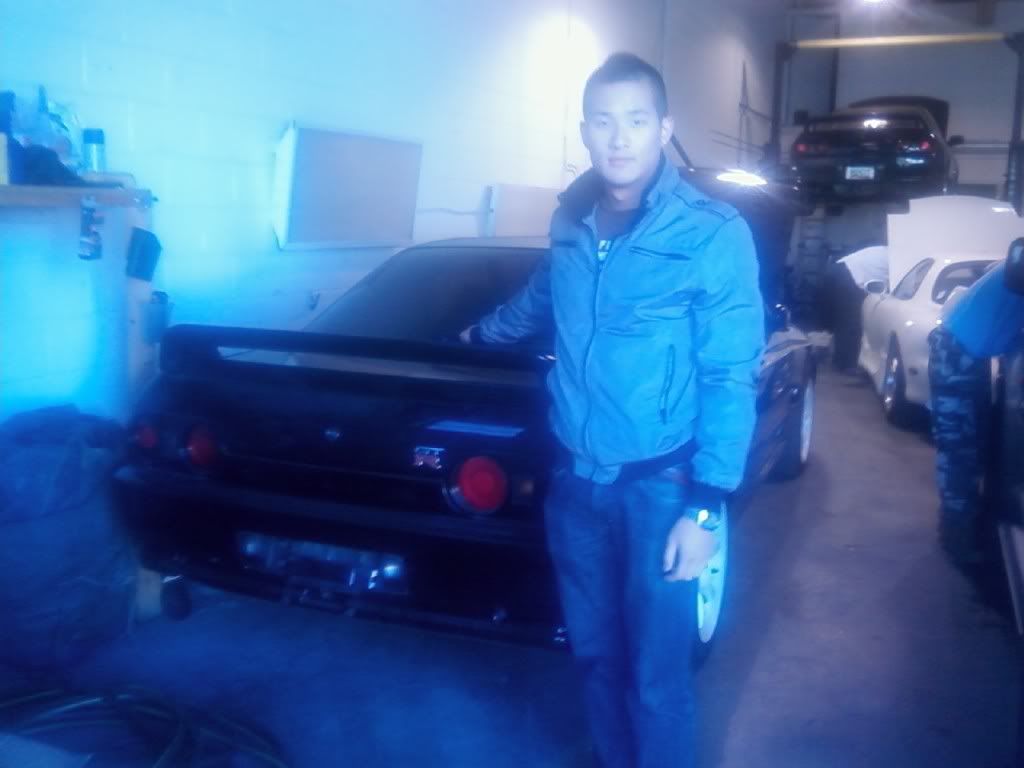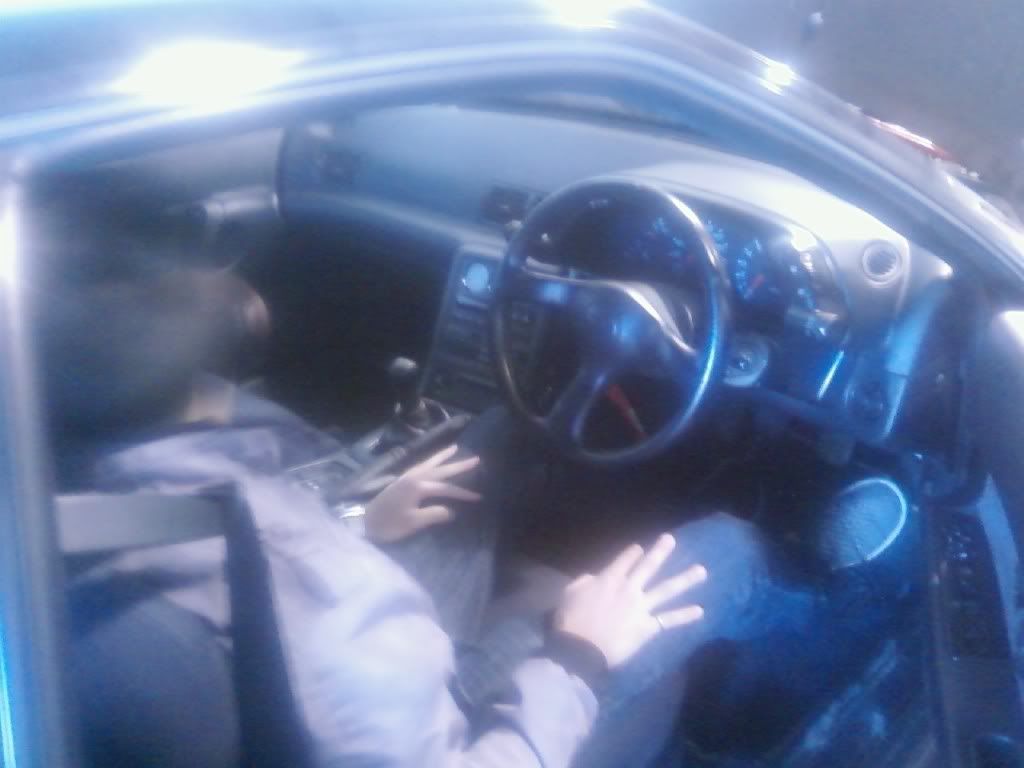 Love at first sight
End of October- the car is finally prepped and ready for me to pick her up. Being so far away, there was a huge difficulty in getting to Toronto and back in one weekend. Mike offered a tow to Montreal where I could swap the loaner car with my GTR, but the tow costed way too much, so I had no choice but to do the drive once more. There was some mis-communication between RightDrive and the alarm installer, so the alarm never got installed, and I planned to take the car there after I picked it up.
I packed my bag, and prepped the car for another long drive. I left town to start the first leg of my drive to Quebec City. This road connecting the two cities was covered in snow, with more wet stuff coming down. I drove about 75km out, everything going pretty smoothly, until the shitty summer tires on the Cima lost grip and the car started fishtailing on the highway! I tried to correct by modulating the throttle and counter steering a little bit. No dice, I let off the throttle, but the oscillations got worse and worse. I slid off the road and flew into a 2m deep ditch with huge jagged rocks. ****. This could not be happening.
Tired ol' engine bay
I called CAA for a tow, while people would stop and make sure I was O.K. every once in a while. Checked out the damage on the car, and it was pretty bad. Bent control arm, front wheel with an extreme positive camber, tires flat, headlights cracked, damage to the left side of the body. Called Mike with the bad news, and he was surprisingly very cool about the whole situation. An ambulance and another car following it happened to drive by and stopped. There was a huge language barrier (my lack of French, and their lack of English). The ambulance called the police, while the man who was driving the car told me to get in his car to stay warm, and offered to drive me to the next service station. I told him it was alright, and I stayed with the Cima until the tow and the cops arrived. 2 hours later I found myself back in the town I started in. Called my friend to pick me up from the impound lot, and went back to my room with my spirits (and my wallet) crushed.